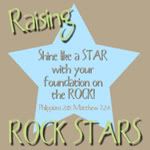 We had a slow few days of Easter activities due to
Lexy's birthday party
. We continued on with our resurrection eggs and Bible lessons, but we did not do any extra activities. Now that things are getting back to normal, hopefully we can have a lot of Easter fun this week.
Each day, Josiah opened up the egg to reveal the Easter symbol, and Lexy hung the symbol on the tree.
After talking about our symbol for the day, Daddy read the story from the Bible.
On day 6, our symbol was a purple cloth to represent the purple robe that the soldiers placed on Jesus. For our craft, the children painted half of a styrofoam ball green and placed a cross made out of popsicle sticks on it. On the cross, we placed a purple ribbon to remind us that Jesus is our King.
This is their finished projects.
To see what we did on the rest of the 12 days of Easter, click on the following links:
Or to find more Easter ideas for preschoolers, or preschool ideas in general, visit the Preschool Corner.