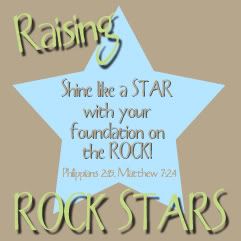 This past week we began a new Bible curriculum that should take us through the next year. "My God and Me" by Gospel Light is designed to use in a preschool Sunday School classroom; however we have tweaked it to use for our personal use. The purpose of this curriculum is to help young children grow more aware of God's love, care and help in their everyday lives. I like these lessons because they provide ideas for 2-5 year olds...perferct for our family. Our story for this week was "God Made the World."
God Made the World
Memory Verse: Our memory verse was "God made the world and everything in it." Acts 17:24. Alex is making a picture sign for each verse.
Art: When discussing that God made the day and night, they made sun mosaics.
Bible Story Time:
Each night, Alex read the story to the children. Some nights he read from a Children's picture Bible. Other nights, he used Bible picture cards. I also read from the NLT to Lexy during our afternoon quiet time.
A Little Taste of God's Love:
Lexy absolutely loves baking. This book is a collection of 28 Bible stories that includes recipes and craft activities to reinforce the central idea of the Bible story. We are using this to supplement our main curriculum. For our lesson this week, we made dirt pudding to go along with our "God made the World" lesson.
They crushed the Oreo cookies.
Josiah spent more time eating them...
After adding the gummy worms, they enjoyed their creation!
This was the result!
CONSTRUCTION:
They used blocks and Magneatos to make their own creations.
Read Aloud Story and Activity:
This curriculum came with activity pages designed for older and younger children. We read the stories with each sheet. Lexy liked doing the younger and older version of the sheets.
They colored the pictures and added stars to the sky. Then they added fabric to the bed. For the older version (not pictured), Lexy counted objects and wrote the number of each objects in a creation scene.
Active Game:
Sorry, no pictures. Sun and moon pictures were placed on the floor. The kids took objects and sorted them as to whether they were objects for daytime or nightime.
Our first week with this new Bible time setup was very successful. I'm looking forward to the next 51 weeks!
Be sure to check out how other families are
Raising Rock Stars
!