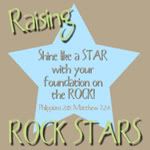 In preparation for our Easter lessons, we focused this week on the love of Jesus. Our primary story for our Bible Time each night was Jesus blessing the children and the parable of the lost sheep. They made several crafts, but their favorite was a door knob hanger.
We also spent time reviewing previous memory verses.
Praying for my children
Of course I pray each day for my children, but I've been looking for a way to be more intentional about my prayers for them. I found
this calendar
with Scriptures for each day to pray over my kids. We hung it up in our bathroom mirror. It reminds me each morning to pray the Scripture for them while I am getting ready. I am also reminded as I see it throughout the day. This has been a great resource for me. I hope others can use it as well.