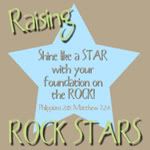 This is my first time linking up for Raising Rock Stars. So, I'll explain a little about how we do "Bible time" at our house. The majority of our Bible teaching happens during "Snack/Bible Time." When Alexis was a baby and we wanted to read her Bible stories, the only way to get her to hold still was to stick Cheerios in front of her...therefore, the name "Snack/Bible Time" was derived. I know it's lame, but it's stuck for this long. This time happens right before bedtime. I let Alex know what the story for the week is on, and he plans the activities for each night.
Besides "Snack/Bible Time," I read a devotion from "The One Year Devotions for Preschoolers" each morning at the breakfast table. Sometimes this goes well. Sometimes it doesn't. Depending on the mood of the kids and how rushed I am, sometimes great conversations can be sparked. Othertimes, we're lucky to get through the whole thing without any major meltdowns.
Just recently, Alexis and I have started having our own quiet times in the afternoon together. I knew it was important for her to see me reading my Bible, but never quite knew how to make that happen. So, after Josiah goes down for his nap, we each take our own Bibles and spend 10 minutes reading it and praying. Sometimes Lexy reads hers, and other times she watches me. Sometimes, she chooses to read it to her baby doll. After ten minutes, if she wants me to read her Bible to her I do. I've started with just 10 minutes, and hopefully we can eventually work up to longer. I also look forward to the day when Josiah joins us for this time.
So, there isn't much to post about our morning or afternoon devotions. For these linkups, I'll focus on our Snack/Bible Time. This week, our story was from Mark where Jesus heals the paralytic.
On Monday, we focused on how the man's friends brought him to Jesus. Alex dampened a napkin, and Lexy put a quarter on the napkin for each "trouble/burden" that she could think of. Her burdens were: 1. when she's too little to reach something 2. when she has trouble doing an arabeque in ballet 3. when Josiah hits her. The weight of the quarters broke through the napkin like the man went down through the roof. We talked about how everyone needs friends, and we need to be good friends to others.
On Tuesday, we read the story and carried the kids on the "mat" as the friends carried the paralytic on a mat to Jesus.
We got home from church late on Wednesday night, so we just read to the kids in bed.
On Thursday, after reading the story with the children, they worked on a sheet that Alex printed up for them. They circled things on the sheet that can help heal us. It included things from medicine and bandages to prayer and the Bible.
We had an off week this week due to getting home late several nights and Alex being out of town. So, the rest of the week, we read the Bible story without any extra activities to go with it.
I'm excited about raising my children up to be Rock Stars, and I look forward to gleaning ideas from others as well!