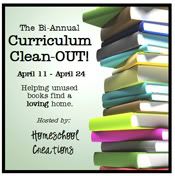 Here's another giveaway as part of the Curriculum Clean-Out hosted by Homeschool Creations. This one is for those with toddlers!
Toddler Theme-A-Saurus (more than 60 themes for teaching toddlers)
"Capture the attention of toddlers with just the right theme - from bubbles to bears to blankets. These instant ideas mean instant fun. Best of all, the 60 innovative units in this big book are practical and need little preparation time. You'll find suggestions for art, music, movement, snacks, language, and learning games. Let your chldren explore the world around them with thse fun and safe activities."
This book has activities geared for 1 1/2 - 3 year olds.
To enter this giveaway leave a comment.
For extra entries:
1. Give yourself an extra entry if you are a follower of this blog, or become a follower and give yourself an extra entry.
2. Blog about this giveaway and come back leaving me a comment telling me that you have done so.
This giveaway will end Saturday, April 24th at 8 p.m. I'll announce a winner by Monday, April 26th. Note: US residents only, please.
Good Luck!