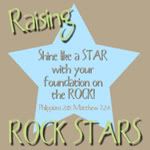 Our Bible story this week was on Judas' betrayal of Jesus. It is found in Luke 22, John 13, and Matthew 26. I had somewhere I had to be on Monday evening, but when I returned home, this is what I found:
They were finishing up their lesson on The Judas Kiss. They used a tube of my lipstick to make kiss prints on their paper. It was really cute! Here are some pictures Daddy took of them.
On another night, we played a kissing game. We blindfolded both kids. We had a bag full of random objects. They had to kiss it to figure out what it was. Included was a banana, a Madeline doll, Cookie Monster, and a book. Josiah preferred to where the blindfold on top of his head.
I am really looking forward to the Easter lessons coming up. On Wednesday, we will begin our 12 days of Easter! To find more ideas for teaching Bible to your little ones, check out Raising Rock Stars!